Three years back, I read Nashta Needh (The Broken Nest), a novel by Shri Rabindranath Tagore. And I was wondering, how I can show it on stage or how one can make a film on it. The reason being, it's quite difficult to convey it through cinema.
But from the internet, I came to know that there is already a movie named Charulata made on this story, directed by Satyajit Ray.
And I watched the movie and I was engrossed in the movie; I felt a greater experience than reading. I was pondering whole day about that movie and was moved after watching such a remarkable work by Stayajit Ray.
In fact I can say that I discovered myself through those characters and I developed kind of empathy for them.
And from there after I got the interest to know more about films. I watched other movies by Satyajit Ray like Pather Panchali, Apur Sansar, Jalsaghar, Parash Pathar, Nayak, Aparajito, Devi, Satranj ke Khiladi, etc.
In fact I was very much fascinated by these cinematic experiences. And to know about this art form i.e. motion picture, I started reading books by Satyajit Ray like Our Films Their Films, Speaking of Films (Bishoy Chalachitra), Deep Focus.
These books include commentary by Satyajit Ray on his work and sometimes on other director's too. And while going through these books I also came to know that Satyajit Ray was earlier a film critic.
In fact before making his first film Pather Panchali (1955), he used to write about the films made by directors around the globe.
And In these books, he meticulously commented on the work of Sergei Eisenstein, Federico Fellini, Renoir and other directors. He read, he watched, he critiques cinema of those days through which he learned about Film Making and gained the deep knowledge of this art form – Motion Picture.
In books by Satyajit Ray, I read about the movie, Charulata as well.
He had pictured the loneliness of a woman in the opening scene by showing: 'She is sitting alone on a bed in a lavish room, she is embroidering on a handkerchief and making letter 'B' on it. When she heard some sound from the street, she ran towards the window where she saw a man with a monkey, then she took small binoculars.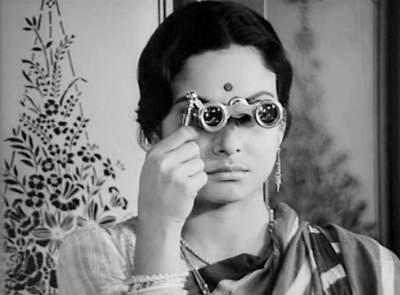 And there on the street, she saw a funny walking fat man, she smiled. Her eyes follow the fat man through the binocular running to view the man, from one window to another. And then she saw the wall watch and asked the servant to make tea for her husband whose office is downstairs in the same bungalow. 
Now she is standing there willing to get noticed by her husband. But after some time, her husband crossed the bedroom door, without even noticing her. Moreover he just took his file and went back to the office.
This opening scene was the initial nine minutes of the movie and there is no dialogue, but the film maker shows the grief and pain through which the protagonist, Charulata is going.
She feels lonesome even being in a lavish life. And her husband is busier in his work, not bothering anything else. Later, in the story, this loneliness became the reason for Nashta Needh (Broken Nest – the family is destroyed).
Moreover the important thing to be noted is that, this whole scene is not present in the original story Nashta Needh, written by Shri Rabindranath Tagore.
"In the relatively short history of cinema, Satyajit Ray is one of the names that we all need to know, whose films we all need to see. And to revisit, as I do pretty frequently."

Martin Scorsese
Originally written by- Lakhvinder Singh