Before I say anything can I ask you a question and will you answer honestly?
Is your passion for the craft of acting truly an original desire?
Or it is an idea that got planted inside your head at some point and then you kept it alive with external influences.
I know it almost seems like an excerpt from a sci-fi movie, this belief that an idea can be planted inside one's head but think carefully.
And just try to remember that initial moment when you thought of becoming an actor.
Was that a purely original idea?
Or you saw something so amazing that it ignited the fire inside you.
During our initial pursuit for the craft of acting, we are always immensely attracted to certain performances or actors.
As a result, it creates an everlasting effect on our understanding of the craft.
And these great works of art make us realize that this is that one thing in life that truly appeals to us and we can surely dedicate our whole being to it.
These great performances that we see at some points in life create certain chemistry inside us.
The chemistry that acts as a precursor for the great artistry that can be achieved.
Here I am listing a few films which captured the nascent minds of artists and compelled them to jump on to the crusade.
1. Pyaasa (1957)
Guru Dutt's timeless masterpiece is a once in a while made film.
This film opened up the new gates of creative expression for cinema.
With its innovative use of poetry as songs and composition of the story as a coherent being, it became a magical piece.
Even more striking is the performance by Guru Dutt that gave us a portrayal of a man with a ruptured spirit and a dampened soul.
It is a timeless story of an artist failed by an ignorant society.
And it was so impactful that whole generations of artists have grown to hold this classic in high regard.
You must experience it.
Also Read: How to do Acting With Eyes?
2. Zanjeer (1973)
This is the film that changed everything for Indian cinema, especially Hindi cinema.
Zanjeer was released in 1973, a time was known for political volatility and anger against governments.
And Zanjeer channeled all this anger through its protagonist which is played by Amitabh Bachchan.
The influence of Zanjeer was all over the mainstream cinema.
It gave a new archetype of the 'angry young man' whose effect was very much visible over the films made in the next decade or so.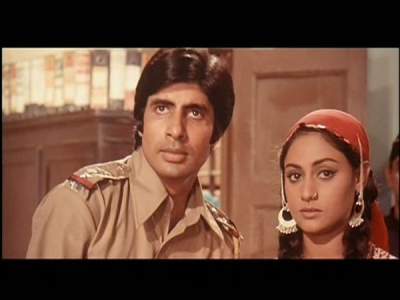 3. Tamas (1988)
When mainstream cinema was still obsessed with the angry young man and larger-than-life characters, under the rug a new wave of parallel cinema was crawling its way up to heights.
Tamas directed by Govind Nihalani was one such masterpiece of this new wave of Hindi cinema.
In addition, it featured acting heavyweights of Hindi cinema such as om puri and Amrish puri.
If you are an Acting student Tamas is a must-watch film for you.
For the first time, such a starkly realistic portrayal of a historical moment like partition was portrayed on screen.
Today realistic and natural style of acting can trace its roots back to films like Tamas.
4. Bandit Queen (1994)
As we discussed above the parallel cinema was finding its footing in the Indian cinematic landscape.
And Bandit queen was one more addition to it.
This movie had a lasting impact on the next generation of artists working in cinema.
Firstly it featured a cast of all experienced theatre actors.
Secondly, the treatment of the subject matter at hand was so much fresh and new that it opened a new wave of imagination.
The third and most important aspect was attention to detail by everyone working in the film.
Many actors who worked in this film are now Stalwarts of Hindi cinema such as Manoj Bajpayee.
Also Read: Every actor should watch once again these 10 movies of last decade.
5. Dilwale dulhaniya Le Jayenge (1995)
The year was 1995 and a new star was rising on the horizon of Hindi cinema that was Shahrukh khan.
And then came DDLJ, a film so iconic and popular that it forever changed how romance is done on screen and established SRK as the reigning king of romance.
Every other romantic film afterward had DDLJ's prints on it.
Whole generations of budding actors during that time got their first lesson of romance from Raj and Simran.
And I will not be wrong if I say we all have at some time tried that famous open arms pose of Shahrukh khan.
6. Satya (1998)
"Mumbai ka King Kaun? Bhiku Mhatre!"
Satya was a monumental film in both its cinematic achievements and acting performances by actors.
In this film, Ram Gopal Verma created a completely distinct organism, a narrative that was so rich and raw that it ushered a new sensibility to our film experience.
This was the film when we got a glimpse of the monumental talents of Manoj Bajpayee.
Above all, Stories about gangsters and dons were even made before but nothing like Satya was done before.
Its legacy is so rich that even today films about criminals and gangsters derive from it.
Well, we don't know about Mumbai's King but we are sure about this 'Acting ka King Kaun? Manoj Bajpayee!'
7. Gangs of Wasseypur (2012)
Now, what more can be said about GOW that is not being already said.
This film enjoys a cult status like no other film of this century.
For the very first time, such an honest and raw story from the heartland of India was presented on the big screen.
A whole plethora of new talents like Nawazuddin, Pankaj Tripathi, and others were being allowed to completely capture the screen.
And the result is a film that cannot be erased from our memories.
After the success of this film, a way was paved for stories based in the rural heartland of India with respect to dialects and language.
Conclusion
Conclusively these kinds of performances are the ones that proposed this idea of being an actor in our minds.
Our ideas and passion don't exist in a vacuum, they are often supported by external influences.
And watching great performances somehow adds to the fire of art burning inside us.
Originally written

by- Shivansh Chaudhary
You will Love us on Instagram: Join Now